September 21st WE'VE BEEN EVICTED!!!!!
It's always right when you least expect it that some stupid bullshit happens and suddenly everything changes... well... apparently due to the band and our asshole friends being a "constant nuisance" we're losing our spot that we've made home for the last 2 fucking years....THIS IS BULLSHIT!!!!.... anyways... we're plotting on renting out this store front in oxford circle... we're also looking into a few other spots but hopefully we'll have a new practice spot reaaaaalllly soon... oh... and we'll be moving in with Tribulation ... now that should be fun... fight club anyone??? we've got a few shows lined up... we'll be playing big nicks i guess every month for now... maybe a few bistro shows in the future... and we got a date at the nail with our homies Canibal Cow.... that should be good... New EP is on the back burner temporarily... duh.... see ya'll soon
August 19th 2004 Dead beat daddy from the lable stops by... some financial backing possible????
Probly not... but the band has hatched a plan thats been months in the making... putting drugs in the cd cases... this would help with both exposure and pricing... we could now charge 25 bux a cd... and... well depending on the drugs we decide to distribute... we'd be making a nice lil profit at the same time!!! Apparently Colin (he came to see us practice last night) from akhenation music has some sort of Costa Rican powder connection... of course... if we put coke in the cd's Ducky would buy them all and the plan just wouldnt work so... we're sticking to weed.... ok... maybe not... but this IS something we've actually talked about... hehe... we're idiots... ANYWAY... we got another show added for August and that's actually why im updating the site... We got new pics on the way... booker and alice just need to get them to my ass... LAZY FUCKERS... ok... im done for now... wait... GREG IS A GIANT BOOB.... ok... now im done... later bitches
August 4th 2004 EP planning, a good review, and some shows
Hey what up. We've finished all the songs that we are going to put on the new EP... now this doesnt mean that we wont write some shit next week that ends up on this thing but.. right now... as far as we know... we have all the songs that we need... its just a matter of touching shit up here and there... we got 2 upcoming shows... one of which i just found out about last night... (thanks Phil-blackoutsunday) anyways... i'll send an e-mail out about that shit so if you didnt get it sign up on the list so you get um lazy fuckers... oh and we got a nice reviewe on this site... check it out bitches... oh and apparently we got reviewed in METAL MANIACS magazine... well... according to Chris Fehr-UMIN but that motherfucker dont talk shit so... check it out... its either june or july's issue... if anybody has a copy of it... we'd like to see it...
July 1st 2004 shows and what not...
ya'll need to get out and check us live... we're playing big Nicks in the northeast on the 10th with tribulation... all a ya'll local peeps best get yer asses out on the floor.. they're letting people mosh now... other than that... maybe you can check us at the nail in ardmore... we're goin in the studio to drop an EP once we get these new songs touched up... keep an eye out...
June something 2004 We got Madd Skillz and all a Ya'all Suck
hey what up peeps... not really much to say right now... besides the normal shit like... we're gonna play some shows and you fuckers better be there.... set list is SOLID... kavork is SOLID... although the kid is suffering... he sounds like a fucking little girl when he talks... i think he just needs to build up some more dead skin in his throat... then he wont sound like michael jackson when we finish a set... whatever.... as long as he can yell when we need him its all good... anyways... no more pussy shit.... yeah thats right... fuck yall... so get yer little punk asses out of yer pussy ass houses and into some dive bars where we will be playing and fuck some shit up... bitches...
May 27th 2004 Official WEBSITE Domain registered... site gets Facelift...
Hope Ya'll like the new navigation and changes I've made to the site.. also.. check out the NEW BAND PAGE... which has a little history on the band and gives you a bit of what we're about and who we are as a band... as if you dont already know... well... if you know us then you do... ah whatever... played a sloshy set at Bannana Joe's in allentown... nice venue... outside stage... good bartenders... oh and we got free beer which is why we play shows in the first place... got to see some good bands we love to play with do some new shit... madd props to LowLyfe and Tribulation also GRIM ARIA... who opened the show... i dont have any info on them guys but they sounded good and they opened the show up when Tribulation showed up all late... of course... we kinda screwed up and got lost and were late too but... thats what we do... it's expected... anyways... we have like no shows coming up... nobody is really doing the booking... We're going to be dropping our NEW shit on an EP sometime soon... and with Karl Kavorkian now on the lineup... well... we've got some work to do ya know... anyways... thats my story and im sticking to it... later...
April 21st 2004 WEB site is back from the DEAD
Welcome back!! If you've been hitting up the site lately then you probly notice that NOTHING has really changed... It's true... my old laptop was developing alzheimer's so I had to get a new one... Thankfully... I havent sent the old boy to some "old laptops" home where it will rot alone... no... now it's hooked up to my BRAND SPANKING NEW DELL... and I'm using it's brain to store mp3's and what not... ANYWAYS... enough geek talk... I kept the e-mail list alive and have been sending updates that way... also the mighty neegro has started posting shows on the msg board as soon as he gets info... this helps me with the site when i update and helps you see info that might not be posted on the main site yet... so... if the shows on the site look old... check the message board... OH and if yer not on the e-mail list then sign the F*ck up...
NOW for the real News... We've finished a colaboration with Karl Kavorkian and have just started playing it live... get out to a show soon and check it out... We also have 2 other new ones that we will be playing out also so... IF you havent seen us in a while then get out to a show... We have a new song done like every other month anymore and we always play the new shit... We almost lost our practice spot but that's been taken care of thanks to St. Seth and St. Chris who now apparently OWN the practice spot... I would go on about our recent shows but i dont really remember much... if you were'nt there then you dont deserve to know about it anyway... So for now... I'm out... and I'll be updating the site more frequently... like i used to... so... I'm not a webslacker... F*CK you NASH!!!
January 8thHAPPY NEW YEAR.... blah blah thank god the holidays are over...
Hey whats up people... hope yer holidays were fun and happy and... ah ya know what? F*ck you... F*ck yer holiday ....and go F*ck yerself.... burnowt had a lil vacation with a cancelled show at 218... chris was sick... now greg is sick... i think im getting a cold... ah well.... anyways... january is pretty much shot as far as shows are concerned... we need the time off anyway... we're still writing madd new material and we got some reviews.... here's a link to one... here .... we got some shows coming up in feb... ill have info and flyers posted on the shows page as i get it... til then... sit down and shut the F*ck up...
December 2nd YOU DID NOT PAY 1000 DOLLARS FOR THAT MICROPHONE
Unfortunately i havent really been able to update the site as much as i should with work and the holidays and stuff... ok... im just lazy... here's the news... We played a "show"at the Speakeasy again.... it's been a while... we kinda stayed a way for a bit... well... i dont think we'll be playing there again... we showed up for an all ages show this last sunday in November... and well... nobody was there.... some bands from new york talked a lot of trash to the "booking agents"that set up the show and i guess they beleived em... so... chris was kinda drunk and a little pissed that we drug our asses out of bed and all the way up there for nothing.... its not the first time either..... we've had some good shows there.... but... this was just bad.... long story short... we practiced some songs for like 5 people.... chris smashed some chairs and threw a fit... we broke some dudes mic... sorry man we'll get ya a new one... but he kinda got wise with chris and was well on his way to suffering a concussion when i stepped in and stopped the cockfight.... no we will probly not be back at the speakeasy... anyways... we got a couple shows in dec... and we got new songs... and we got cd's.... and we got booze and we got drugs so come out and have some fun...
November 9th TRIP to NEW YORK... NO CIVILIAN CASUALTIES

Well Our trip to NY worked out... and nobody died... so... i guess thats good... madd props to all our retards that made the trip... in no particular order... Alice, Matt, Missy, Brandi, Diane, Ducky, Brian and Illene... There's nothing more fun than riding in a van packed full of drug addicted beer guzzling moron's... we love you guys... ummm... we got a show at the sleazy and another at the troc balcony... yay... come out and get us drunk... OH yeah... and you can hear us on the radio... sunday nights LOUD AND LOCAL 94wysp... 10 oclock.... i keep hearing we're getting played so... call up and request us or something...215-263-ROCKOct 20th.... NEW PICS...well, old pics... but... They're new to US!!
Crusty Colin @ akhenation.com has finally handed over some pics he's had stashed away in his damn computer for god knows how long... So... I Just updated the pics page with these new shots... some are actually pretty damn recent... also... I threw up every flyer i have here on my lil ghetto Ass Laptop... I'm planning on getting even more pics but I dont know if i have to wait for the neegro to send em or if he's gonna just give me this cd or... ya know what?... NEVER FU*KING MIND... THere's a few new links on the links page so check them out too... Saturday Night WAS AWESOME... When you get hip-hop, Punk, and HArdcore acts together on the same bill you have yourself a BAD ASS SHOW... I had a great time ... anybody that wasnt there sucks madd ass.... I'm only seeing one show right now like 2 weeks from now in NY ... I'll keep you updated when we book some more... for now... look at all those pretty pics... definitely one of the sexiest bands out there...
Oct 12th We're running out of CD's get one NOW...
Whats up people... sorry I'm a lil slow on the updates but... life is a lil hectic with my job situation and whatever... yall should come check out a great show this coming Saturday the 18th... IT's KELLY'S B-DAY AGAIN... and this girl dont celebrate without some sort of drunken frolic in earbleed land... this one's being held at THE NOCTURNAL WAREHOUSE... our boy Quinn runs these lil underground party/show things at this spot ... if you remember the Lancaster Hall shows then you know what i mean... it's a damn good time so come on out and watch our drunk asses go on last... which is probly where the bastard that's booking the bands put us... YES NASH... you ARE a BASTARD... but we love you... see our shows page for details directions and the flyer... if you dont have a cd ... buy one... request us on loud and local or just listen... that's 94wysp and the # is... they've been rocking the cd lately... and we have a video up on Akhenation... There will be another video to follow... the one up there is live at the nail... ah crap... here's the link... here but the next one will be an Akhenation presentation.... more to follow... keep in touch...
BURNOWT is currently preparing for a slew of upcoming shows at venues outside of philly... AKA some sort of tour... but of course with everything we do... organization is a word we don't know the meaning of... I'll be dropping more info here as i get it... right now we only have a few shows on our plate... One in NY and one in ARDMORE PA... also our show at the TROC balcony last thursday 22nd was cancelled due to the "hurricane" so... we're waiting on a rescheduled date for that one...
Sept 2nd CD TO BE RELEASED Sept 12th at the HOLLYWOOD BISTRO... see SHOWS page for flyer and details...
August 14th CD IS PRESSED AND READY!!!!
Ok... It's done yall... well.. actually tomorrow it's done... We got two shows right now for august.. one is tomorrow... the other is next friday the 22nd at the bistro.... check the shows page for details.... The CD's won't officially be available til we release the cd but that's all being planned out right now... or something.... anyway... check back for more details on that release date and upcoming shows... sign the mail list on the shows page... come out to a show and break something...
AUGUST 1st Finished Proofs for cd art are in...
It's only a matter of time now... Within the next few weeks we should have some finished product... and We'll be planning a weekend tour also... I'll have news on that as we get it... We also have shows coming together for august... I'll have them posted once their definite... we're taking a few weeks off... Congrats to Booker's Bro Brian and Eileen... they're gettin HITCHED!!! AUGUST 9th.... We wanted to play but something fell through... anyway... I got some sad sad sad sad sad sad sad sad sad sad sad.... SAD SAD SAD... news.... our boys SCUMDRUNK have officially broken up... R.I.P. my brothers you will be missed... other than that we got a shitty review on PA hardcore from some punk... yay... apparently we're nu-metal... what a joke... We have a new band moving into the spot with us called Stiffed I dont know too much about them yet but can't wait to meet em and hear their shit... anyways... check back for updated show dates and tip a 40 for SCUMDRUNK... also some more links have been added to the links page...
JULY 3rd CD FINALLY COMING TOGETHER .... ?
Alright... I know I been saying for a long time that the cd is gonna come out on such and such date or around a certain time right? whatever... well the truth is this shit is harder to organize than ya think... also... we kinda did go all out on this... not only us but Akhenation's hand in this has been a big help... anyway... i feel like im writing the same shit i did 3 months ago... but anyway... I PROMISE the world... THIS FRIGGIN CD IS ALMOST READY FOR RELEASE... im actually listening to it now for the first time in a while... and .... I'm very happy with how it turned out... the only thing that sucks is now i want to go back in the studio and record the new shit... ah well... I'm still saying mid july for finished product... that might not be necessarily when the cd release party and all that happens... I'll keep yas updated... We got shows... sign up on the mailing list... and then go kill yourself... oh yeah and the font is white now... you dont like it? too bad! quit yer bitchin!!
JUNE 30th Burnowt finds more official management
Although we've never actually physically met this dude... he's hooked up a lot of shows and has helped us out a lot in the past few months... He is the one the only... Carpuck... i dont know how he got the name or if he is even human... in fact... my running theory was that he was a computer virus programmed to book shows at the speakeasy... anyway... we have a show that just came up this saturday July 5th at THE DUNGEON... and its all ages so you young-uns out there can quit yer bitching and come out... for more info on the dungeon and the speakeasy check out godisdead productions... you can also contact Carpuck there ...other than that... we have a compilation being released this year at hellfest called PA VS NJ... including bands like Dead Silence, Ellipsis, and Forgetting Tomorrow... also want to say hey to all the bands we played with last thursday at the speakeasy... Dead Silence, Hardgore, and Fall Of Eden... that show kicked madd ass and it was a pleasure to see an ALL hardcore show.... anyway... we got the shows coming up so get off yer ass and come on out...
JUNE 25th Rent Problems Show Changes More Links Added
Just updated some of the show information.... that show in NYC is postponed til Sept so... i took it off the page until i get def info on that... Added that HP show in August... HP is under new management and has a new sound system... from what I've heard its a nice spot... Rumor has it we might lose the practice spot due to late rent payments... hopefully somebody can handle that... 2 words.... WASTA BOY... anyway... I also Added more links to the links page which i must say im quite proud of... it was the bastard son page for the longest time and i had kinda neglected it cause im a bad daddy... well... web daddy... ah shit who cares... check out the links damnit....
JUNE 18th GOT SOME SHOWS AND A TIME FRAME FOR THIS CD RELEASE...
OK here's some more info on the CD... Everything is ready to go... according to Wasta-boy colin at akhenation music he should be sending the artwork out to the ummm.... ya know... art people... [ahem].... and that would mean that he should receive the cd book thingy's back mid july and all he would need to do then is put the cds together and they'll be ready to go... so im gonna say that by the end of july the cd's should be available online at akhenation music and at any shows we play. I think everybody's gonna be pretty impressed with the recording and the cd's presentation as well... Madd props to Colin for all the help with this... also we haf ta give it up to Walt at groundhogstudios who was definitely the man behind the sound of this cd... and he fed me once so... he kicks ass... also, you'll see some shows listed on the shows page so... come out and show some support damnit... there's even an all ages show for you little shits out there... I'm also toying around with a new site design concept... ya know... since this one's about a year old and all.... [ added june 20th ] Also want to say thanks to shelly for the photography used in the cd inlay... Shelly im sorry i originally forgot you... but as you know i am a moron and a retard... you can see shelly's work at photodynamics.
JUNE 13th NOT MUCH TO SAY....
Made some more changes to the site... the cd cover is up on the home page... yay... oh and there's some background sounds from the new tracks on the intro and home page... if you have a slow connection tho you might not hear em right away... played the sleazy last night... always a good time... always a hottie bar tender there too... and no im not talking about the chubby dude that's always tellin sick jokes... anyway... we'll be back at the sleazy again on the 26th for another thursday night romp so... come out damnit and show some support... we've been unleashing the new new shit so if you show up yer gonna hear three new songs and a cover... yeah thats right... we're doing a cover... one cover... ONLY ONE COVER... everything else is all us... ah well... rape sluts, take drugs...
JUNE 3rd SOME SHIT JUST NEVER CHANGES
Well... I dont have much to say right now... The band is still playing shows still writing music and still doing fine... the CD is still almost done... We were back in the studio AGAIN tweakin the mix and whatever... We're still having equipment problems... latest crap is a stolen guitar and Booker's amp back in the shop... So... We're just doing what we do best and thats adapt to whatever comes at us... We got a few shows in the works ... right now just a few dates at the speakeasy are all we have definite... there was a ESPN Skatepark show we had for next week but that got cancelled due to some sort of insurance problems at the park... aka... somebody musta got smacked at a show.... anyways... We'll be booking more shows as they come... right now we're trying to just concentrate on the CD and new music... oh yeah and i have a job now... yay... You might notice a slight change in the site navigation jammy at the top of the page... apparently some people don't know how to scroll down so i made it a lil smaller for all you retards that cant see the page title er whatever... there will also be a new links page up but right now I just dont have the patience to organize all these links and whatever... I'll get to it... some night when im bored and out of beer... get on the mailing list... you can find it on the shows page... until next show... later yall...
MAY 7th MORE DELAYS... MORE BROKEN EQUIPMENT... MORE BULLSHIT...
Hello people... I'm sorry to say we're still running into delays getting this CD done... its mostly all post production stuff... ya know ... little things... little things like a silly wasta-boy forgetting where all our original layout stuff was... this isnt really a bad thing though... We totally redid the layout... well.. Wasta a.k.a. colin scumdrunk a.k.a. akhenation man himself redid the layout... I must say what i saw when i was over looked awesome... oh yeah and that means that the old cover we had done got nixed... it was too low quality for wasta standards so we dropped it... anyways... We've also had some equipment problems with a PA system we were trying to hook up and stevie G's amp and Bookers amp was in the shop and blah blah blah... anyway... as far as i know everything is fixed minus the PA and we should be practicing in full strength for the first time in a while tonight... keep us in your prayers or spells or voodoo curses however you praise yer higher power and hopefully everybody will come out of this alive... and YALL BETTER BE THERE AT THE BALCONY!!!!!!! MAY 22ND WITH SCUMDRUNK AND UMIN!!!!
APRIL 2nd FINALLY THE MOST CONSTIPATED RECORDING IN HISTORY IS FINISHED
And these lumps of burnowt yumminess came straight out the buttholes of some talented peeps.... this is years worth of music and effort... this is the biggest shit yer ass could ever take.... thats right.... think about taking a shit that's been waiting for 3 years to come out.... thats damn right... its gonna be hard and heavy and nothing you could ever touch.... and when we make contact with a fan... the fan is gonna explode.... and guess whats gonna be on yer face?? thats right ... OUR SHIT... ALL OVER YER FRIGGIN FACE.... post production is just the end of the rectum.... and you are all the toilet.... so keep yer damn seat up and wait for the poop heard round the world cause here it comes.... HELLLLLLLLLLLSSSSS YEAAAAHAHAHAHAHHAAHAHAHAHHAHAH here's the cover again...
MARCH 18th we have no shows...thank god...
Burnowt is tired and hungry.... you can send food to 26__ levick st... second floor... pizza will work just fine.... beer is welcome too... oh yeah... Full length is still in the process of being done.... if you love us you will send food and military aid now... i want some tanks... and some rpg's... they look like fun.... here's the cover art for the cd....look up damnit....
tomorrow we are back in the studio for mix down... and hopefully... god help us... this cd will finally be done and we can get these suckers pressed and in yer cd players and car sterios and head phones and whatever else you use to peruse noise... madd thanx to everybody that helped with the cd... Namely Chris, Booker, Fatty and "Yo dood I'm Deeking Dood!!" oh yeah... and umm thank me... yeah thats right i helped too you bastards... Also madd thanx to Johnny "Roh dee doh in da poh poh " Dumbass Dost... for the not so slick piloting of Bubba Ray.... please dont try to relite things while we're flying you dick... last night was fun at speakeasy's ... snow kinda sucked though... oh yeah... here's the coverart for the cd... nice huh???
FEB 25th MY HEAD HURTS!!!!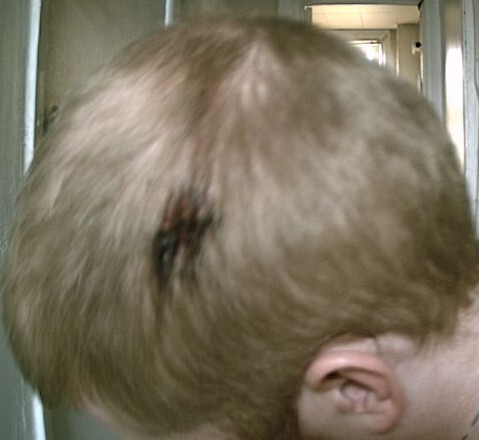 Well i dont really remember much of what happened when it happend... Last thing i can remember is standing in the parkinglot of the acursed Hollywood Bistro and looking at all the beautiful red goo oozing all over my hand as i pulled it away from my throbbing dome... Apparently i done got dropped by some skinhead and kicked in the head a few times... I didnt even do anything apparently... just stumbling out the bar... anyways... This didnt go over well with a few of my friends... Madd props to Ducky Dolotz, Steve beyer, Brian beyer, Pat and his boy from baracus... and... oh yeah Anger and Addiction and anyone else who helped pound the living crap out of those skinhead F**ks... Brian got smacked up with a roofing hammer and ended up with stitches... I refused to go to the hospital due to the fact i have no health coverage so... im gonna have a nice lil bald spot for a while... Anyways all said and done people ended up bloody on both sides... madd thanx to Brandi, Diane and Nat for the patch job... Melissa D would get a thanx too but all i heard she did was piss on my lawn... so ... ummm thanx... anyways... we played Speakeasy's the next night and it was a good time... sorry im probly leaving out details but i dont feel like getting all into it right now and... well... MY HEAD HURTS!!!!
The show at "Night Dippers" Kicked butt... Scumdrunk opened it up and well ... it's the first time i heard them with their new guitarist and they def sound much thicker with two guitars... We had the second slot and Had a great response... the crowd was great that night... then ISS ripped things up to close the show... if ya missed it then you suck... Gotta give madd thanx to all our people who showed up that night... It's rare that we are able to see that many of our people out at an away show so thanx for the support guys... Tuesday night we played 360 skate spot... apparently the show started really late due to bands not showing up on time... we were told it would be cool if we showed up around 7 since most of us work... hehe.... but unfortunately got booted to last since they decided to do the set order according to order of arrival that night... not a big deal i guess... CaNiBaL CoW was madd representin and beating each other up all nice... thanx guys that was touching... Anyways We'll be in nj again this sat at Otter's Pub with ISS so if you wanna come out and check out a good show then e-mail us and we'll figure out how to get ya there... or click on one of the ISS links here... i think they are gonna have directions on the site or something... we do the mix down of the CD the end of this month... so ... well... it's almosdone...
FEB 3rd WE NEED MONEY... HELP...
Did you know that the price of a twelve-pack of Miller Low Life can help feed a burnowt for 5 minutes... yes thats right... Instead of getting yourselves drunk and stupid why not sponsor a burnowt... all we ask for is a cheesesteak and maybe a forty... I've been going hungry lately due to recent developements with our amps getting busted and the need for a PA... fortunately I've taken care of my amp situation and will be able to feed myself in another week or so... but ma boy steve hasnt been so lucky as he has inherited my old amp... well, at least until he gets a new one or fixs his... and apparently Chris and Greg have decided to put in together for a PA... Oh yeah and We also done dropped about 2 BIG FAT G's at groundhogstudios over the past few months... So ... for the sake of my lil tummy being empty... GIVE ME SOME FRIGGIN CASH.. Getting a job is not an option right now so i dont want any e-mails or crap on the message board about that either...
In other news... THIS CD IS GONNA KICK YER MOTHER FARKING ASS... We just finished up the vocal sessions and i gotta say this is by far THE BEST BURNOWT RECORDING to date... We have hopefully one more session possibly two to go before we get these suckas pressed... So, we're looking at a couple more months... SPRING 2003 Keep an eye out...
Sign up below for show and site updates. . .